Amazon Accused of Promoting Pedophilia For Baby Clothes Reading, "Daddy's Little Slut"
Product removed from site after backlash
Jeff Bezos' Amazon is being called out by internet users for selling children's T-shirts reading, "Daddy's Little Slut," which have since been taken off the website.The shirts, sold by third-party retailer Onlybabycare, were available for boys and girls ages 2-6.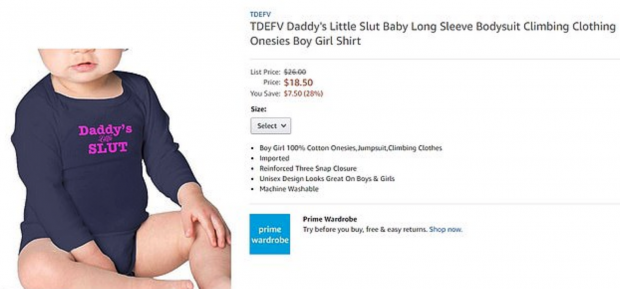 "Posting here in hopes it'll expedite removal from Amazon," journalist Yashar Ali wrote on Twitter on Thursday.
Hundreds of Twitter users commented on the post, most calling for Amazon to remove the item from their website.
An Amazon spokesperson told The Independent the shirt was removed, saying, "All sellers must follow our selling guidelines and those who do not will be subject to action including potential removal of their account. The product in question is no longer available."
However, Twitter users were quick to point out other third-party retailers selling similar items on Amazon.
For example, toddler shirts and onesies reading, "Spank Me Daddy" are still available.