I'm sorry, but this is outrageous. And where are out legislators? Where are the city councils? The responsible voters? NO WHERE TO BE SEEN. And absolutely NOTHING will be done about this abuse of the people of Texas. NOTHING. Read it and weep.
Forbes: Why Texas Is In Trouble – 78,064 Public Employees With $100,000 Paychecks Cost Taxpayers $12 Billion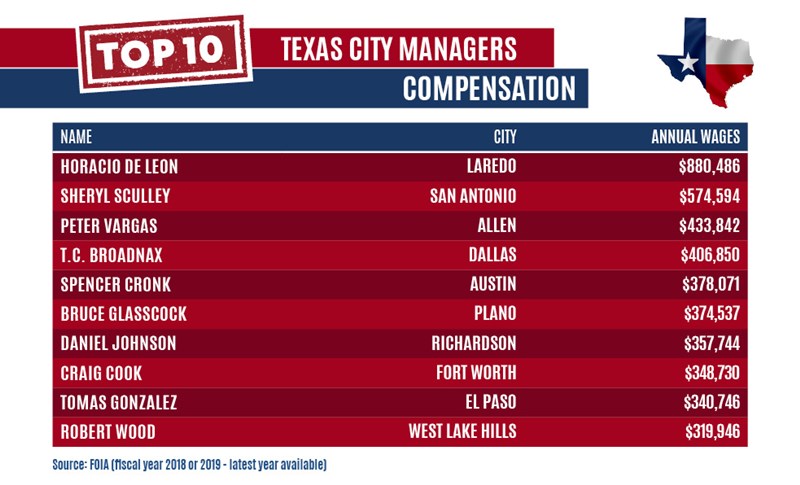 By Adam Andrzejewski
Everything is bigger in Texas—including the supersized salaries of its city managers, school superintendents, state staffers, and other public servants.
Last year, 78,064 state and local government employees made more than $100,000 each, and 18,600 of them out-earned Texas Governor Greg Abbott, who made $153,750.
Our auditors at OpentheBooks.com found the speech writers for university presidents making up to $140,000; library directors booking $202,875; community college presidents making up to $505,000; and city managers raking in an eye-popping $1.85 million over the last three-years.
We also found 19,519 federal bureaucrats based in Texas who earned six figures or more. Collectively, these employees cost taxpayers $2.5 billion in 2018, the last year available.
Using our interactive mapping tool, quickly review (by ZIP code) the highly compensated public employees earning more than $100,000 annually from local, state, and federal governments. Just click a pin and scroll down to see the results rendered in the chart beneath the map.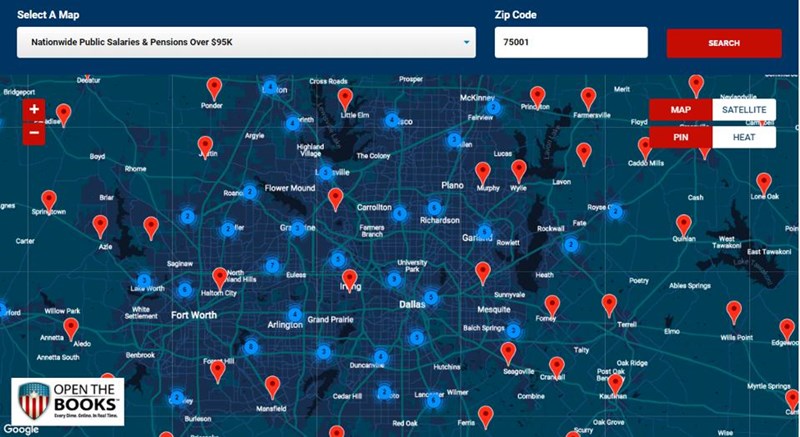 Auditing Texas' largest local and state pay systems:
Municipalities (22,656 employees who made $100,000 ) – Texas is home to some of the most highly compensated city managers in the nation.
In 2018, Sheryl Sculley ($574,594), the then-city manager in San Antonio, ranked number one. Her base salary was $467,789 plus a $106,805 bonus. Six deputy and assistant city managers also made between $231,544 and $270,125. The library director made $202,875— and outearned all federal bureaucrats employed at the National Archive and Smithsonian Institution ($201,400).
In 2019, frustrated voters in San Antonio capped city manager pay and term-limited employment to eight-years by passing a referendum.
This hasn't happened in other Texas towns.
In the past three-years, Laredo poured $1.85 million into their city manager position (2017-2019). Horacio De Leon earned $880,486 in 2019 and $314,556 in 2018. In 2017, the previous city manager, Jesus Olivares, received $651,867 – including $278,028 in severance.
We reached out to Laredo and all the other cities with highly compensated employees for comment. We will update the piece if they respond.
Top-paid city managers included Peter Vargas ($433,842 Allen); T.C. Broadnax ($406,850 Dallas); Spencer Cronk ($378,071 Austin); Bruce Glasscock ($374,537 Plano); Daniel Johnson ($357,744 Richardson); David Cooke ($348,730 Fort Worth); Tomas Gonzalez ($340,746 El Paso); and Robert Wood ($319,946 West Lake Hills).
The city of Plano responded to our comment request:
"Mr. Glasscock's salary included his retirement payout of benefits since it was 2019 and he retired in April of that year. His actual annual salary was lower than that."
El Paso gave a lengthy defense of their pay scale. Nevertheless, Tomas Gonzalez $340,746), their city manager, outearned every four-star general in the U.S. military ($268,332) last year.
Other highly compensated workers included the general manager of Austin Energy, Jacqueline Sargent, earned $419,942. Two employees of Garland Power & Light made more than $412,000 last year.
In Dallas, top executives received hefty pay hikes. For example, in 2011, the Dallas city manager made $265,617, which increased to $406,850 last year (a 53 percent bump). The top assistant city manager in 2011 made $198,048, but that position earned $268,569 last year (a 36-percent increase).
"Dallas pays city executives equitably to close gender and cultural compensation gaps. Executive compensation is commensurate with experience to attract and retain the talent needed to provide excellent, equitable, ethical, and empathetic service to our residents and stakeholders." Catherine Cuellar, City of Dallas spokesperson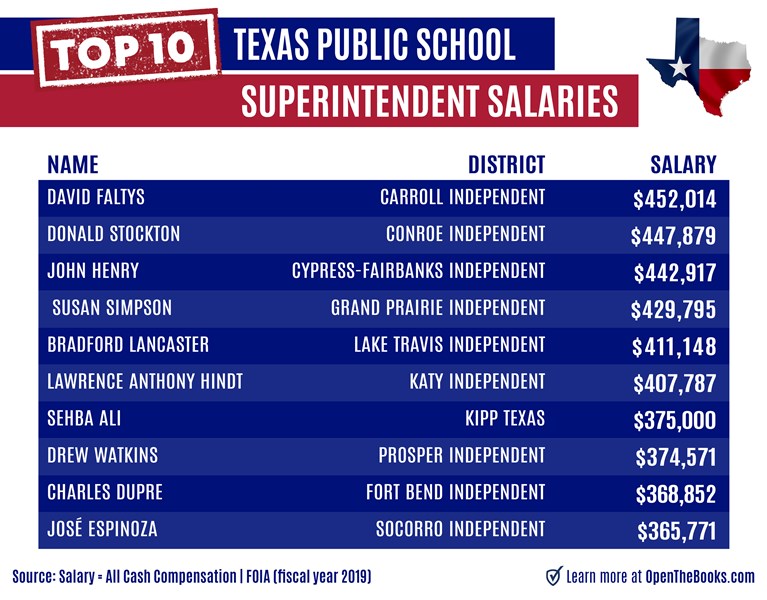 Public Schools (8,975 employees who made $100,000 ) – Nearly 9,000 Texas public school administrators, athletic directors, teachers, and other employees pulled down six-figure salaries in 2019 and cost taxpayers $1.1 billion. Nearly 1,000 teachers and administrators out-earned the governor ($153,750).
The $400,000 Club (2019) included six superintendents: David Faltys ($452,014 Carroll); Donald Stockton ($447,879 Conroe); John Henry ($442,917 Cypress-Fairbanks); Susan Simpson ($429,795 Grand Prairie); Bradford Lancaster ($411,148 Lake Travis); and Lawrence Anthony Hindt ($407,787 Katy).
The Dallas Independent School District (DSD) accumulated $3.8 billion in voter-approved debt as of 2018. But DSD still employed the second highest number of six-figure educators (349) which cost taxpayers $44.1 million. Only the district in Houston employed more (367). In 2017, Dallas paid 274 employees more than $100,000 for a total cash compensation of $34 million.
Fort Bend Independent paid their superintendent Charles Dupre $368,852 last year and responded to our request for comment:
"With more than 11,000 employees and a budget that exceeds $1 billion, Fort Bend ISD is the largest employer in Fort Bend County."
For context, the Secretary of the U.S. Department of Education made $199,700 last year – a cabinet level position.
State Government (8,310 employees with $100,000 salaries) – The state governments 8,310 highly compensated six-figure employees made a collective $1.1 billion last year. James McCall earned $1.1 million as chancellor of the Texas State University System and was one of the most highly compensated state employees.
Other state government executives also made a lot of money: Jerry Albright, CIO, ($800,175) and Eric Lang, Sr. Managing Director of Private Markets, ($750,540) at Teacher Retirement System; Paul Ballard, CEO, ($703,692) at Texas Treasury Safekeeping Trust Co.; Barney Timmins III, CIO, ($640,163) at Texas Education Agency; and Charles Tom Tull, CIO, ($577,981) at the Employees Retirement System of Texas.
The Texas Education Agency responded to our comment request by providing FY2020 estimated compensation for Barney Timmins III – who received another pay increase from $640,163 to $685,308.
In the Office of the Governor alone, 48 employees earned six-figure salaries and eleven out-earned their boss ($153,750). This included four deputy directors who made $265,000 each. In addition, rankedagainst the 50 states, the Texas governor's office has the largest staff at a headcount of 277.
However, it's important to note that the Texas governor's office includes up to 30 departments and these departments operate independently in other states.
"The Texas Legislature appropriates a set amount for staff salaries within the Office of the Governor, and we are currently operating well under budget. In fact, the Office of the Governor has operated under budget since Governor Abbott first took office in 2015." Read the full statement here. Nan Tolson, Deputy Press Secretary, Office of the Governor
Colleges and Universities (16,981 employees with $100,000 salaries) –
Football is king in Texas, and head coaches made the largest incomes: Jimbo Fisher ($5.15 million Texas A&M); Tom Herman ($4.72 million University of Texas (UT)); Dana Holgorsen ($3.7 million University of Houston).
The Austin campus at UT employed 3,441 six-figure employees for $618 million in cash compensation. High earners in rank-and-file positions included Matthew Kivel, the president's speech writer ($140,105); Gary Susswien, chief communications officer ($251,913); and Edmund Gordon, a diversity provost ($280,532).
Not only does UT pay hefty salaries, it also has one of the largest endowments in the nation: $31 billion. However, in March, the UT system took home $173 million in coronavirus relief funds as part of the CARES Act. This doesn't even include amounts for the M.D. Anderson Medical Center at UT, which had 6,400 employees making between $100,000 and $3.8 million last year.
The Texas A&M University system employed 3,902 six-figure employees for $626 million in cash compensation last year. The university received $82 million in coronavirus bailout funds through the CARES Act despite their $13.5 billion endowment.
A Texas A&M spokesperson responded to our request for comment:
"Even with the CARES Act money, the Texas A&M System to date is experiencing almost $160 million in revenue losses, future cuts in state appropriations and the cost of testing our students, faculty and staff for COVID-19 so we can reopen safely."
Overall, Texas state government is drowning in $99 billion dollars in debt, according to Truth in Accounting. It amounts to $3,413 per man, woman, and child. By contrast, Florida has only $12 billion in debt and a $600 per-person liability.
To their credit, most of Texas isn't begging for a coronavirus bailout like many other states. However, Nancy Pelosi's $3 trillion HEROES Act would deliver an extra $34.3 billion to the Lone Star State over the next two years.
However, critics say that Texas – at every level of state and local government – should tighten its own belt first.